Study in New York main image
New York State has a lot to offer: world-renowned universities, including two Ivy League colleges (no other state has more than one!), a wide range of prospering industries and career paths, a wealth of recreational and cultural opportunities, and a diverse mix of attractive rural and urban landscapes. It is also home to some of the most diverse, progressive and creative communities in the US.
Often referred to as New York State to avoid confusion with New York City, New York is also known as the Empire State (the origins of this nickname are unclear). Meanwhile NYC is traditionally nicknamed the Big Apple, a term that loosely signifies an abundance of rich rewards.
Home to nearly 20 million people, New York State is known for its long history as a gateway for immigration to the United States, and is often seen as the home of the American Dream. Indeed, the promise of opportunity, prosperity, individuality, self-determination and freedom are all likely to be attractions for those who want to study in New York.
Public universities in New York State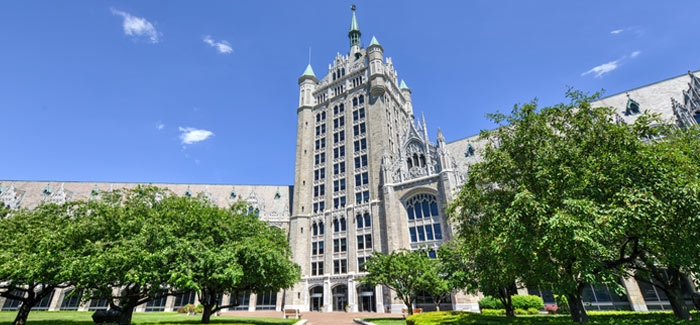 There's plenty of choice for those who want to study in New York – there are more highly ranked universities in New York State than some entire countries can claim. New York's state-wide public university system is called the State University of New York (SUNY), while New York City has its own public university system, the City University of New York (CUNY).
The latter is the largest urban university in the US, and ranked in the 501-550 range* in the QS World University Rankings® 2016-2017. The four SUNY university centers are the University at Buffalo (ranked 342nd), Stony Brook University (joint 390th), the University at Albany (651-700) and Binghamton University (701+).
Private universities in New York State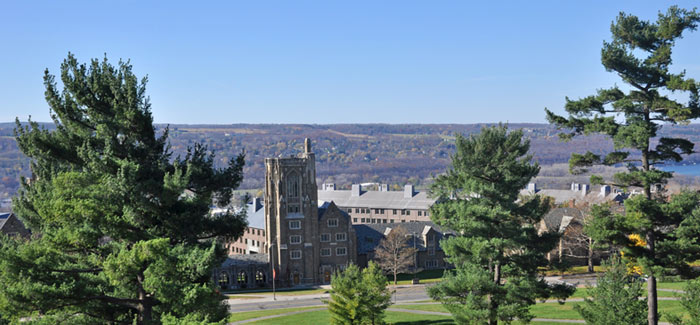 The illustrious Cornell University is the state's highest ranking institution overall, at 16th in the QS World University Rankings. Based in picturesque college town Ithaca in upstate New York, Cornell offers some of the country's most highly regarded architecture, engineering and international relations programs, and also has a branch campus in Education City, Qatar.
The state's other Ivy League institution, Columbia University, follows close behind in the rankings, at 20th in the world. Columbia claims connections with more than 100 Nobel Prize laureates, as well as 29 heads of state, 26 Academy Award winners and 20 living billionaires. Columbia University has been the site of some of the world's most significant research and discoveries, including the laser, FM radio and revolutionary drugs to treat glaucoma and cancer. As a research-focused institution, the university enrolls more students at graduate level than at undergraduate.
New York University (NYU), another of the top private universities in New York, is ranked joint 46th in the world. Its fashionable Greenwich Village campus houses the largest student body of any non-profit private US university, while its 18 colleges and schools offer 2,500 different courses and 25 different types of degree (that's type, not subject!). More than 50,000 students representing 138 countries are currently enrolled at its three campuses. Click here for a comparison of NYU and Columbia.
Other top universities in New York include the musical University of Rochester (ranked 194th), Rensselaer Polytechnic Institute (joint 310th), the Jewish Yeshiva University (joint 330th) Syracuse University (551-600), New School University (601-650), Clarkson University (601-650) and Fordham University (701+).
*Click here for more information about rankings categories.
Life in New York State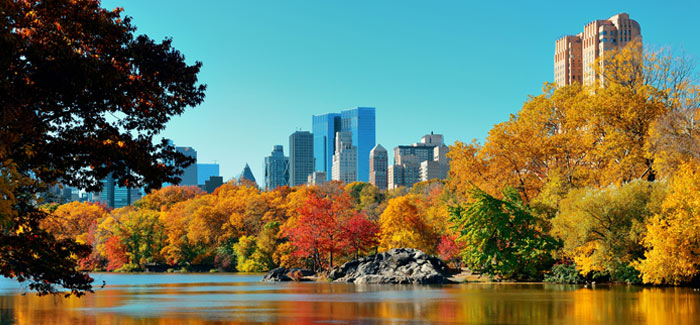 As the cultural and financial capital of the US, New York City attracts more visitors than any other US city. Its romantic appeal, buzzing street life, collection of ethnic neighborhoods, towering skyscrapers and landscaped green spaces (of which Central Park is the most famous) all bear remnants of the city's colorful history as a center for finance, immigration, industry and commerce.
But, while New York City may loom large over the world's imagination, there is a lot more to the United States' fourth most populous state. Lying towards the west of the state, Buffalo and Rochester both have metropolitan areas which are home to more than a million people, and are both prominent college towns, as are the smaller Ithaca and state capital Albany. Other cities likely to be of interest for students include Buffalo (the second-largest city in the state) and Binghamton (dubbed the 'Carousel Capital of America').
Beyond its cities, New York is a lush green state, with 18.9 million acres of forest. It borders two great lakes (Erie and Ontario) as well as the vast and rugged Lake Champlain, and is intersected by a plethora of rivers and waterways (70,000 miles), including the mighty River Hudson and the Erie Canal. Plus, if you follow the path of Lake Erie, you'll end up at Niagara Falls, one of the US's most popular tourist attractions.
A number of spectacular mountain ranges, such as the green Catskills and the wilderness of the Adirondack add further interest to the state's landscape, while the Great Appalachian Valley dominates its eastern region. So, whether you're based in the country's most famous city, or elsewhere in this beautiful state, New York offers plenty of scope for adventures of all kinds.
Facts about New York State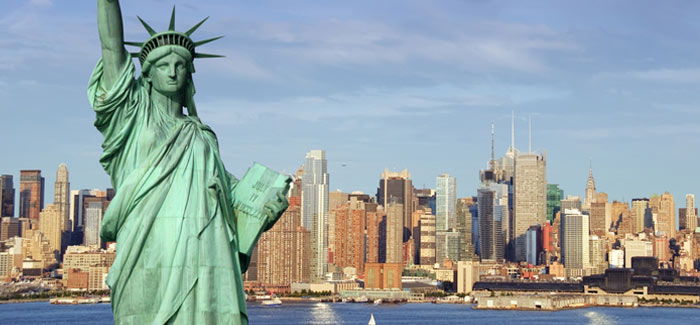 Located in the Northeastern and Mid-Atlantic regions of the US.
Borders with New Jersey and Pennsylvania to the south and Connecticut, Massachusetts and Vermont to the east; maritime border with Rhode Island, and international border with Canada to the west and north.
State capital is Albany and largest city is New York City.
Total state population is over 19.7 million.
New York City's population is over 8.4 million, making it the most populous city in the US.
State nickname: The Empire State
About 63% of New York's total surface area is covered by forests.
The largest gateway for immigration to the US is in Ellis Island, in Upper New York Bay.
Commercial toilet paper was invented in New York City in the 19th century, by Joseph C. Gayetty.
The New York Post is the US's longest continuously published newspaper.
New York is the only state that touches both the Great Lakes (Erie and Ontario) and the Atlantic Ocean.
New York State has 307 degree-granting institutions, with only California claiming more.
Award-winning photo blog based in New York called 'Humans of New York' (HONY) by photographer Brandon Stanton has spawned many similar blogs around the world.
Famous New Yorkers include: director Woody Allen, actors Robert De Niro and Al Pacino, singers Lady Gaga and Jennifer Lopez, rappers Tupac Shakur and Jay Z, authors Don DeLillo and Thomas Pynchon, presidents Theodore Roosevelt, Martin van Buren and Franklin D. Roosevelt.
Ready to study in New York? Get started with our complete guide to studying abroad in the US.
Want more content like this? Register for free site membership to get regular updates and your own personal content feed.
This article was originally published in January 2016 . It was last updated in January 2020