Why You Should Consider Studying a Master's in Hong Kong
Sponsored by The Education University of Hong Kong
It's hard to overlook the rise of Asian universities in recent ranking tables, and their improving performances year after year.
Chinese universities in particular are taking the lead and have made tremendous strides over the past decade. Recognizing the impact education has on the development of the economy, there has been growing policy emphasis, increased investments, and a push towards growth and reform, such as the change in Hong Kong's academic structure to align with international higher education development.
Even before the education reform was implemented in the noughties, Hong Kong has long been a popular study destination. With most courses taught in English and the allure of Hong Kong as a thriving metropolis where east meets west, it isn't surprising the city attracts students from all across the globe, whether it's for an exchange program, or studying a master's abroad.
Hong Kong is also home to over seven million people, as well as some of the best universities in both Asia and the world, helping the city secure 12th spot in the QS Best Student Cities 2018. The performance of the universities there is especially impressive when you consider the relatively small population compared to other countries, such as traditional favorites the UK and the US.
Top-tier institutions
This year, for the first time, The Education University of Hong Kong (EdUHK) was ranked in the top 10 universities in the world, and second in Asia, in the QS World University Rankings by Subject 2018: Education, solidifying its status as a leading university for this subject.
Understandably, students wishing to pursue a degree at a top university in Hong Kong may be discouraged by tuition fees and living expenses which are comparatively higher than other Asian countries. However, these can be offset by the many scholarships available for international students.
The Hong Kong PhD Fellowship Scheme offered by the Research Grants Council under the Government of the Hong Kong Special Administrative Region grants each awardee an annual stipend of HK$301,200 (~US$38,600) and a conference and research-related travel allowance of HK$12,600 (~US$1,600) per year for up to three years.
Also, full-time research students admitted to EdUHK's graduate program who have a proven record of academic excellence, research ability, good communication, interpersonal and leadership abilities can apply for the University's Research Postgraduate Studentship (RPGS).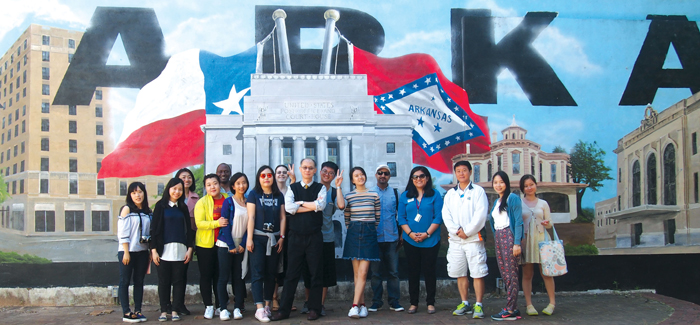 Image: Students of the Master of Philosophy, Doctor of Philosophy and Doctor of Education programs gain international study experience in the United States
All-round support
For students who are interested in research and aiming to embark on an academic career, getting support is crucial. At EdUHK, Research Postgraduate (RPg) students, as well as PhD and MPhil students, are encouraged to conduct research activities and go on international exchange programs with the provision of financial support of up to HKD$10,000 (US$1,282) per year and a conference allowance of up to HK$11,000 (US$1,410), respectively.
Finance aside, close faculty mentorship and guidance is also important as they influence how fruitful the learning experience is as well as the quality of scholarly output. For instance, Jason Yin Dean-Chen published a research article as the first author in Health Policy, a leading international journal in health policy studies. The paper was co-authored with an associate professor of the Department of Asian and Policy Studies at EdUHK where Jason studied the public policy and governance master's program.
Another graduate, Michelle Chiu, recalled her experience of studying the child and family education master's program at EdUHK. She said her supervisor went with her to collect data and walked her through the whole process. "She first let me do the interview, and then we discussed my performance and ways to improve. She then demonstrated how things should be done by doing an interview herself."
This article was originally published in December 2018 . It was last updated in September 2021