Studying in Hong Kong: Student Profile
Studying in Hong Kong: Student Profile main image
UK undergraduate Gareth Lewis recalls the ups and downs of his year studying at the University of Hong Kong.
The idea of studying abroad wasn't really something my secondary school helped me to consider.
When taking A-levels, the idea was to get your UCAS application in fast in the hope of scoring an early offer.
Beyond that I didn't consider what would happen after I finished school. Consequently I went to university in the UK.
Don't get me wrong, I love my degree at Manchester University and it's a great place to live. But when I realized there was a possibility of going abroad for part of my degree, I grabbed it with both hands.
Coming to Hong Kong was a world away from anything I had experienced before. The modern high-rises nestled between mountains and islands in the Pearl River delta make cities like London or Paris look flat and conventional.
But the first thing you really notice is the crush of people. I stepped out of the MTR (underground) station at Causeway Bay on my first night in the city and was met with a barrage of people, light and sound. It felt like daytime even though it was late at night.
In short, coming to Hong Kong began with culture shock.
Many people have asked me how I coped with the language barrier. How on earth did I manage lectures in Chinese? I didn't.
English is the primary language of instruction at HKU and most of Hong Kong's other institutions. I studied Mandarin and Cantonese as foreign languages there, but this is something people need not find intimidating.
The standard of English is excellent in Hong Kong, so learning Chinese is not necessary. I will say however, that it made for a richer experience of the university and the city.
Fellow students really appreciated that I had gone out of my way to learn a little of their language. This helped me to make friends where my fellow exchange students didn't.
The educational environment I found to be very different coming from the UK. There is much more emphasis on group work, projects and presentations than anything I have experienced at my university career at Manchester.
I've been told this will prove a valuable life skill in my future career. To be frank, I found that student presentations often were less concerned with addressing an audience and more concerned with fitting in as many PowerPoint slides as possible.
But this was a minor downside to a largely positive educational experience. Committed teaching staff and (especially for arts and humanities) very small class sizes all paid tribute to HKU's position in world rankings.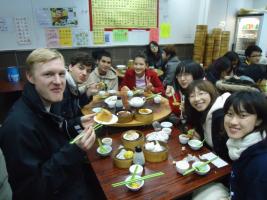 One of the strangest aspects of my time at HKU was hall culture. One of the things I liked most was the sense of community that was engendered between floormates and hallmates through regular meals, sports activities and social gatherings.
There was something very tangible about the companionship and closeness of hallmates in my hall which was like nothing I had experienced in the UK.
This closeness did come with disadvantages though. Attendance at social events and meals (known as High Table) was compulsory and non-attendance resulted in punishment from the hall's warden or student association. Visiting hours for guests were also limited.
The restriction of certain freedoms which I took for granted at Manchester was quite a shock and felt entirely opposite to the purpose of living away from home.
But these restrictions weren't enough to put me off going to university in Hong Kong. The strong friendships you form with hallmates more than make up for any limits, which by the way are often overlooked for international students.
Outside of university life, food was often on my mind. There was an incredible array of some of the most delicious (and also the most unusual) dishes I have ever tried.
Chicken's feet is the well-known Hong Kong specialty, but there is so much more to the delicious Chinese tapas that is Dim Sum. What's more, Michelin-starred food is so cheap to come by you almost feel as if you're stealing it. I often paid no more than UK£5 for a delicious meal at a highly rated restaurant.
Of course, as students, we also looked for nightlife. Hong Kong willingly obliged. Lan Kwai Fong and Wan Chai provide glitzy bars and clubs with some spectacular scenery. Looking out to the shimmering night lights of Victoria Harbour from the 15th-floor bar often found me feeling fairly contented with life.
Perhaps most importantly for me as graduation approaches, I have found my study abroad experience invaluable in all my job and postgraduate applications.
I have used the skills and experiences I have gained from studying in Hong Kong in every one of my applications and I am currently preparing for interviews with my international experience at the heart of my answers.
Potential employers seem very interested to know about my time in Hong Kong; my reasons for going and what I gained from it. I'm taking that to be a positive sign. I couldn't recommend international study more highly.
This article was originally published in October 2012 . It was last updated in September 2021